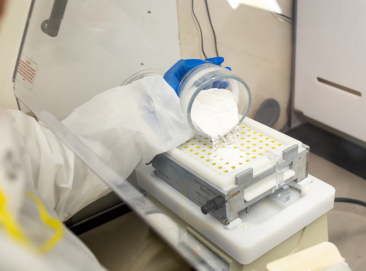 Custom compounding is available for those individuals who require their medications to be tailored fit for their medical conditions.
At Greenfield Compounding Pharmacy, we always take the uniqueness of your situation. When you need customized medications for your condition, you can take advantage of our custom compounding service.
We work with your prescribing physician in formulating medications in specific strengths, dosages, and forms tailored to fit your health needs. Our pharmacists are licensed and experienced in preparing custom medications in a safe environment complete with state-of-the-art technologies.
Our custom compounding service is available for both human and veterinary uses. We specialize in non-sterile compounding including:
Creams
Ointments
Capsules
Suppositories
Liquids
Troches
Suspensions
Our preparations are commonly prescribed for:
Hormone Replacement Therapies
Pain Management
Pediatric Needs
Veterinary Products
Dermatological Conditions
Note: We do not do sterile injectables or eye drops at this time.
Frequently Asked Questions
What is compounding?
Pharmacy compounding is the art and science of preparing personalized medications for patients. Compounded medications are "made from scratch" – individual ingredients are mixed together in the exact strength and dosage form required by the patient. This method allows the compounding pharmacist to work with the patient and the prescriber to customize a medication to meet the patient's specific needs.
Pharmacy compounding is an established tradition which allows a physician to prescribe a very specific medication, prepared by a pharmacist, for a patient's individual needs. Years ago, compounded medications provided the majority of prescription drug care for the population. Today, the vast majority of medications are mass-produced by pharmaceutical drug companies. They aim to treat a specific medical condition for a large segment of people. Problems can arise when a patient has a medical condition that can't be treated by one of these mass-produced products, or they might be allergic to a dye or filler in a commercial tablet. Patients may not be able to take the medication if the capsule is too large, or the dose is too high, which is common in pediatric cases. These are the situations where a compounding pharmacist can play a vital role in helping the physician find an appropriate treatment for their patient.
What type of compounding do you perform?
We perform all types of non-sterile compounding for oral, topical and rectal suppositories from capsules, liquid suspensions and liquid syrups.
If you need answers to your queries, please give us a call at 760-842-1700.